Intergenerational wealth transfer is the term used to describe wealth that is passed down from one generation to another. It is one of the greatest opportunities and challenges facing the wealth management industry over the next thirty years. With an ageing population and rising levels of wealth, the UK is set to see substantial growth in the number of inheritance transfers and financial gifts taking place each year.
We've created an intergenerational wealth transfer infographic to highlight some of the key statistics and opportunities for the financial services industry. Let's take a look...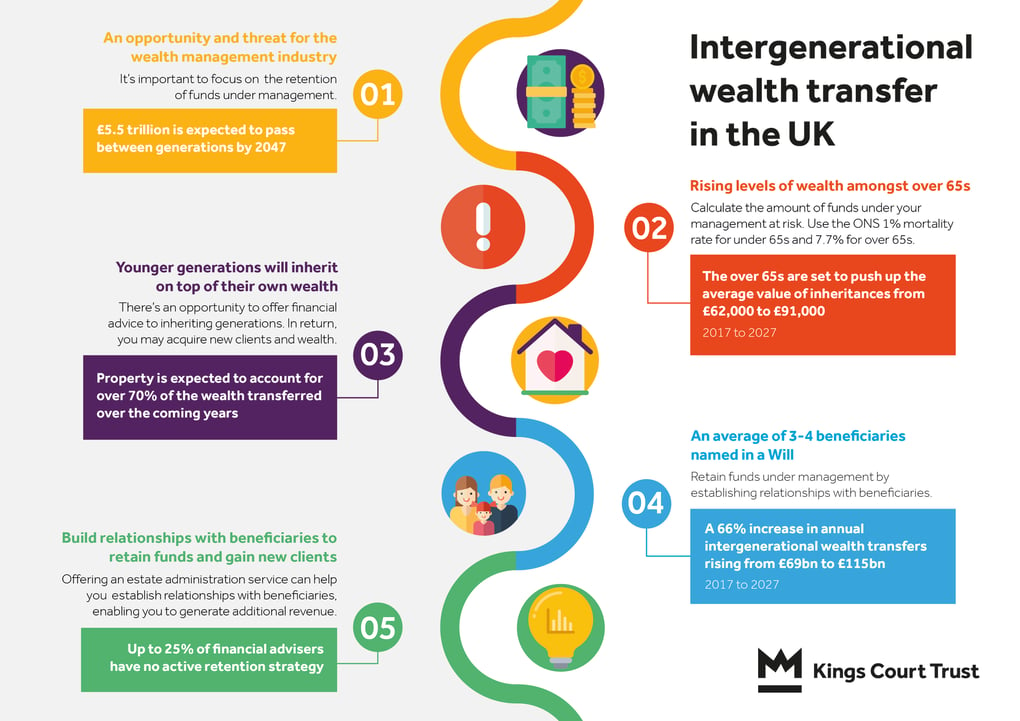 Data source: Kings Court Trust's Inheritance Economy Research Papers; Passing on the Pounds and Wealth Transfer in the UK. Research conducted by The Centre of Economics and Business Research.

Despite the opportunity to gain new clients and retain assets through intergenerational wealth transfers, a significant number of wealth management firms and corporations have no active business retention strategy. Our independent research paper, Wealth Transfer in the UK, identified that up to 25% of practices have no such strategy in place.
The challenge that the financial services industry faces is how to retain wealth as it is dispersed from one generation to another, over time. Millions of pounds of funds under management could be lost if beneficiaries withdraw their funds, or are not engaged to become new clients.
Kings Court Trust can be a fundamental part of intergenerational wealth transfer. We look to support advisers and businesses by helping to retain funds under management, introduce new clients and enhance service propositions. Your client has trusted you to help them during their lifetime, so it's only natural for you to help their loved ones to finalise affairs when they're gone. By introducing a market leading estate administration service, you can prepare your client and their family for what lies ahead. The estate administration process can help you bridge the gap between your client passing away and establishing a relationship with their beneficiaries, enabling you to generate additional revenue.