Bristol, United Kingdom – October 22, 2019 - Kings Court Trust named Probate Provider of the Year (Large Firms) at the 2019 British Wills and Probate Awards on Thursday 17th October. Kings Court Trust received the following submission feedback as they accepted the award: "An excellent submission clearly demonstrating exceptionally high standards of service and support to their clients and partners. Clear focus on improving efficiencies through the use of their bespoke software to deal with complex probate matters."
The 2019 National Probate Provider of the Year award recognises the firms with an outstanding approach to client care as they support bereaved families through the probate process. The shortlisted firms were able to demonstrate excellence in the areas of technical advice, client care, and customer experience whilst providing tangible evidence of growing a successful business on a national scale.
The award was presented to Kings Court Trust's Executive Team by ex-Royal Correspondent, Jennie Bond, and Dave Newick, Managing Director of Arken.legal UK. The Executive Team is made up of Chief Executive Officer, Simon Hancox, Chief Revenue Officer, David Masterton, and Legal Services Director, Andrea Pierce.
The shortlisted candidates alongside Kings Court Trust included Co-op Legal Services and Hugh James Solicitors.
Simon Hancox, Chief Executive Officer at Kings Court Trust said:
"We're delighted to receive the Probate Provider of the Year Award for Large Firms at the 2019 British Wills and Probate Awards.

This award is for the Kings Court Trust team and our dedicated business partners, as it recognises all the hard work, service and care they provide to our clients.

It's a real testament to our excellent team who provide an outstanding service to the families who entrust us to take care of their estate administration."
Karen Babington, Director at Today's Wills and Probate said:
"Following on from the success of the inaugural British WIlls & Probate Awards in 2018, 2019 promised to be bigger and better... and it didn't disappoint.

The quality of the submissions surpassed our expectations; being shortlisted was an achievement in itself and all the winners on the night can be rightly proud of their achievements.

As Probate Provider of the Year (Large Firms), Kings Court Trust stood out in an exceptionally competitive category, providing a real vindication of their efforts to grow as a business over the past 12 months.

One of the things I am most proud about is that the British Wills and Probate Awards leads the way in recognising the success of organisations from across wills, tax, trusts and probate."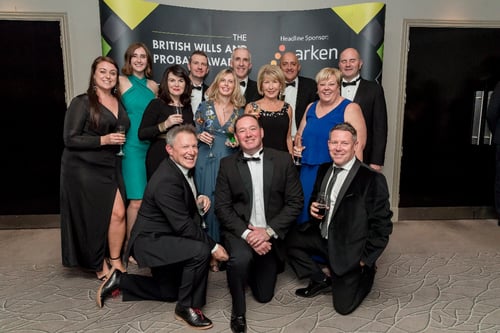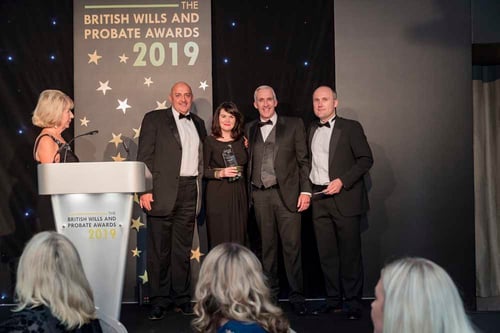 Image source: The British Wills and Probate Awards 2019
About Kings Court Trust
Kings Court Trust are the UK's leading specialist estate administration provider and they take care of the practicalities after death so families can focus on life's important moments. Since they were founded in 2002, they've assisted on over 35,000 estates either by taking care of the entire estate administration process or providing their specialist services on complex estate administration cases. With their unrivalled knowledge of estate administration, their legal and tax teams can advise on any situation and offer an exceptional estate administration service.
For further information, please contact:
Danielle Ricketts
press@kctrust.co.uk
0300 303 9000 (Extension: 5450)